Grizzly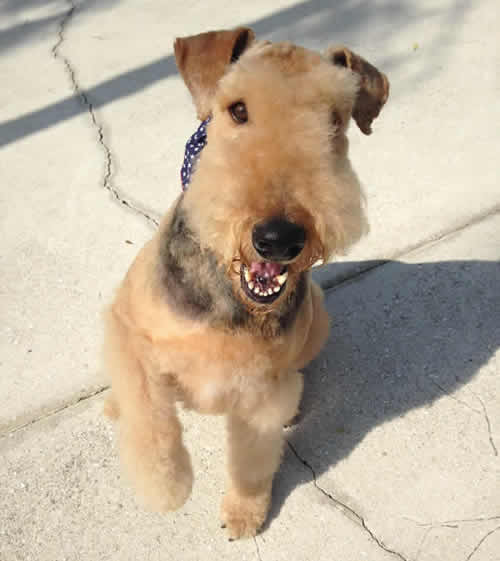 Grizz came to live with us in September of 2013. Ron Bunch was his foster dad. Grizz was a big boy at 100lbs! He was the "man's dog". He loved his new daddy, Tommy, and was his dog through and through, so surely he would never listen to his new momma-HA!
In the beginning there was a lot of: "No bite the Momma!" but he learned that momma would not give up because he growled. He growled at everything he didn't like and thought should stop at first until he met our groomer who put him out of the trailer half done because of the growl. He spent the rest of the day trying to get back in, so funny.
He came to love so many things and those growls became just 'talking'. He loved walks and treats and playing with his 3 dale siblings and treats and petting and treats! Did we say he loved treats?
He began to decline with soreness in his hips and his legs not wanting to work correctly. He had been on pain meds since June but in early September he stopped wanting his nightly walks and didn't want to move from his bed and we knew it was time, so Sept 5th was the day we said goodbye. We only had him 4 years, way too short a time. He died a month shy of his 11th birthday but lived his life with gusto. We loved him so and he will be missed.
Tommy and Linda O'Connell
Sunshine Airedalers Perpetual Memorial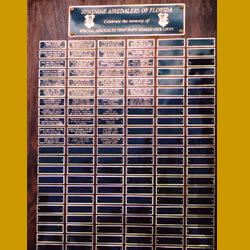 The Memorial Plaque is a permanent way to commemorate our beloved Airedales. The cherrywood plaque has mounted black and brass plates, ready for engraving with a special Airedale's name and a message of up to three lines of text. For a minimum donation of $75.00, you can order a special place for an Airedale on this memorial plaque. What a lovely way to remember your beloved Airedale or one that belonged to a friend and support Florida Airedale Rescue in the process!
This plaque is proudly displayed at every meeting.
Donate a minimum of $75 and receive an engraving on the Memorial Plaque as a thank-you gift.
Or if you prefer to use a check, make your check payable to Sunshine Airedalers of Florida and note the purpose of the donation. Mail checks for the Memorial Plaque donations to:
Lorrie Tisdelle, Treasurer
7611 Lawrence Road
Boynton Beach, Florida 33436
Include the name of the Airedale to be memorialized, along with the message desired. If ordering online, send your name and message to: Lorrie Tisdelle at lorrietis14@yahoo.com. Thank you for supporting Airedale Rescue in Florida!
Sunshine Airedalers is a 501(c)(3) nonprofit organization. Contributions in the United States are tax-exempt to the extent provided by law.